DIGITAL TEXTBOOKS:
JUMPBOOKS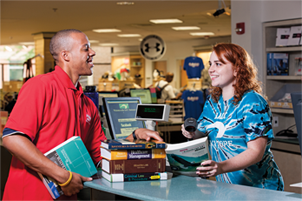 JUMPBOOKS - HOW TO BUY, HOW TO USE
WHAT IS A JUMPBOOK?
A Jumpbook is an electronic form of a printed textbook. These digital books contain all of the same pages and illustrations as the printed version in full color. When you purchase a Jumpbook, you are purchasing an access code that entitles you to access a digital copy of the physical book.

Individual shelf tags will indicate if a Jumpbook is available for a specific course. Jumpbooks are typically priced around 40% less than traditional textbooks.
HOW TO PURCHASE IN THE STORE
Courses with Jumpbooks will have the Jumpbook listed on the shelf tag along with all other course materials. Please tell the cashier when checking out that you would like a Jumpbook and give them the department, course and section for the course with the Jumpbook.

The cashier will ring up the Jumpbook version of the text for you, and your receipt will print instructions for accessing the book via the Jumpbooks website.

PLEASE KEEP YOUR RECEIPT - YOU MUST HAVE YOUR RECEIPT TO ACCESS OR REFUND YOUR JUMPBOOK!
HOW TO PURCHASE ONLINE
Jumpbooks are listed online with all of the other course materials for each course, if applicable. Add the Jumpbook to your shopping cart like any other text. They do have (E-TEXTBOOK) in the title to help distinguish them from other alternate versions.

The staff member processing your order will process your order for a Jumpbook along with all of your other books, and you will receive an e-mail directly from Jumpbooks with instructions for accessing your Jumpbooks. A copy of the access code and instructions will be provided with the printed receipts for the order.

YOU MUST HAVE THE E-MAIL OR YOUR ORDER PAPERWORK TO ACCESS OR REFUND YOUR JUMPBOOK!
JUMPBOOKS: PROS AND CONS
Pros:

You can search, highlight and annotate your Jumpbooks - and your highlights and notes will sync across multiple devices (for most titles)!
Most Jumpbooks allow printing - some titles, every page of the book if you need it! - giving you the best of both worlds, but only for the content you need and choose!
Jumpbooks are available on PC, MAC, iOS, and Android; internet access may be required for access to your Jumpbooks.
Cons:
Jumpbooks are usually valid only for a fixed length of time - 180 or 365 days. Only a select few titles offer perpetual access.
Once accessed, Jumpbooks are non-refundable. Before accessing, they are refundable per normal AACC Bookstore refund policy.
CREATING AN ACCOUNT
At the Jumpbooks website, first time users will create a username and password for maintaining all of their Jumpbooks. Once the account is created and you are signed in, follow the instructions to redeem your access code. You must use the transaction number found at the top of the receipt and the Basket ID from the bottom of your receipt to redeem your Jumpbook. Follow all other instructions on the Jumpbooks website to use and access your content. All customer support is provided through the Jumpbooks website via e-mailing Jumpbooks support.