CUSTOMER
SERVICE
INFORMATION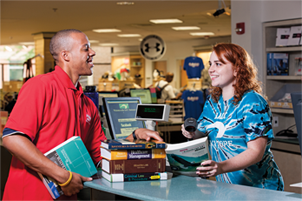 CUSTOMER SERVICE
Here, you will find the answers to the most common questions regarding ordering and returns and other inquiries of a customer service nature. Please don't hesitate to let us know if you need anything at all! We are here to help!
Ordering Online
Submit your order securely to us via this web site. Visit us again after you have placed your order to easily track your shipment and view order history.
While the COVID-19 response plan is in effect, orders can only be shipped. Store pickup will resume when the store reopens to the public. Most orders will ship for free due to this circumstance. Some exceptions may apply due to size or weight.
Ordering By Phone
Call us at 410-777-2082. Press "2". Follow the voice prompt. Use our site as your own personal catalog!

Important note for rentals: Renting requires more information than would otherwise be needed. We will need a driver's license number, current address, phone number, and student id number to setup your order. along with a credit/debit card to place on file.
Notice of Limited Liability and General Disclaimer
The AACC Bookstore provides information on course materials used for courses at Anne Arundel Community College, as submitted by the faculty, believed to be correct at the time of publication. However, books and prices may be changed at any time as new information is received from the faculty and our suppliers. The AACC Bookstore will correct errors and allow refunds on books purchased from the AACC Bookstore within published policy limits.

The AACC Bookstore is not responsible for any damages that may be caused by errors in information posted on our site, delays in processing orders, or errors and delays by any third party in the processing or delivery of orders. We are not responsible for damages or correcting errors on books or merchandise not purchased from the AACC Bookstore.

We reserve the right:
To limit all course materials transactions to those students enrolled in the course(s) for which the course materials are intended; proof of enrollment may be required.
To limit quantities of course materials or merchandise purchased or quantities of course materials returned through refund and buyback transactions
To request additional forms of identification beyond what is already required for financial transactions
Shipping Policies
Please allow up to 7 full business days for your order to be shipped or prepared and ready for pickup!


While the COVID-19 response plan is in effect, most orders will ship for free. Some exceptions may apply due to size or weight. The information below will apply again once the store reopens to the public.
The College Store ships via UPS. The price for shipping in-state is $8.25 for one or two books, $10.00 for 3-4 books, $12.00 for 5-10 books and $14.00 for 11 or more books. General merchandise will ship free with a book order or will be a $7.50 flat fee if ordered alone. Orders shipped via UPS Ground outside of Maryland will be charged the full amount of the shipping fee. Please note that orders shipped within Maryland will only ship Ground due to UPS guaranteed Ground delivery dates based on zone. Military members with an APO or FPO address please select Military Mail. UPS will not deliver to these addresses so we must ship them via the US Postal Service. Note that orders not eligible for Military Mail will be switched to UPS Ground and charged at the above mentioned rates.

Orders placed for merchandise that ships directly from a vendor will be charged by the vendor the full amount of the shipping. That amount varies with the vendor and the ordered merchandise.
Refund Policy
Your cash register receipt, course registration form or drop slip and picture ID are required for all refunds.

We offer extended refund deadlines at the start of every term. These dates will appear below when these extended refund dates are in effect. Updated information for summer and fall will be added once the revised academic calendars are final.

For purchases made outside the designated refund periods, full refunds will be given on merchandise returned in original condition within 7 days of purchase.

EXCEPTIONS AND CLARIFICATIONS:


No refunds on textbooks or course materials purchased for single-session courses unless returned prior to the class meeting.
For other courses shorter than regular sessions, the refund deadline is 2 days after the first class meeting.
Shrink-wrapped items, software, and access codes may be returned only if they are unopened.
E-textbooks and rentals may have special refund conditions; these will be disclosed on your receipt.
Purchases made by credit card or financial aid voucher will be credited only to the original account.
Checks are required to clear before a refund will be issued.
Your original receipt, AACC Photo ID and a course schedule/bill or drop slip are required for all refunds or exchanges.
Birthday Discount
Celebrate your birthday with the AACC Bookstore and receive 40% off of one eligible item! You must visit within 7 calendar days of your birthday (before or after) to be eligible for this discount. Current students, staff and faculty are eligible for this discount. Proof of eligibility may be required.
Discount, Coupon and Promotion Guidelines and Exclusions
All promotions, discounts and coupons are subject to change or cancellation without prior notification. Promotions, discounts and coupons apply to in-stock merchandise only unless otherwise specified.

We are sorry, but coupons cannot be applied to items on the following list and items in this list are ineligible for any discounts or promotions unless specifically designated otherwise:


Computers, tablets, and certain hardware and accessories
Computer software
Graphing calculators
Textbooks
Pool passes
Bus passes
Freight fees
Gift cards
Photo ID fees
Academic regalia
Class rings
Graduation announcements
Prepared food
Items already discounted, marked down, or on clearance
Contact Our WebSales Team
Contact us anytime with questions or concerns via email at: websales@aacc.edu. You can also contact our web sales customer service department via phone: 410-777-2082.