LOCATIONS,
STORE HOURS,
AND SPECIAL EVENTS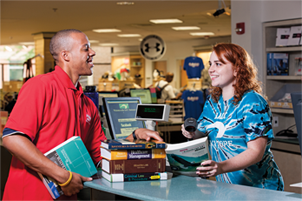 LOCATIONS, STORE HOURS, AND EVENTS
Each link below contains an embedded Google calendar with the store hours for the listed location along with other pertinent details.
ARNOLD CAMPUS BOOKSTORE
Student Union 160
101 College Parkway
Arnold, MD 21012
(410)777-2220
This location offers our full array of services and course materials for all courses.
AACC @ ARUNDEL MILLS KIOSK
AMIL 106 (inside the Student Lounge)
7009 Arundel Mills Circle
Hanover, MD 21076
(410)777-1917
This location offers course materials for AMIL, CCPT, SSTC, and Meade HS only. If you wish to purchase materials for online courses or courses offered at any other location, please place your order online and select Pickup at Arundel Mills for your shipping method when checking out.