DIRECT DIGITAL ACCESS
INFORMATION
List of classes with books at $40 or less!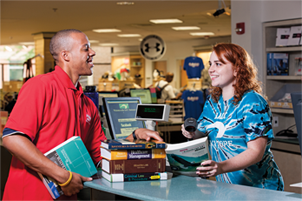 DIRECT DIGITAL ACCESS FAQs
How do I access my Direct Digital Access course materials?
Your course materials will be accessible directly in the course in Canvas. Students receive access to their courses 3 days before the start of the term. Inside the course, the method of access varies based on the type of content. Classes using courseware will have a link to the courseware. Classes using standalone e-textbooks will have a link to the eReader platform.
My course is a Direct Digital Access course, but I have already purchased course materials. What do I do?
For any purchases made in the AACC Bookstore, we will refund you in full even if you have opened or accessed the course materials. You will need to bring proof of enrollment in a Direct Digital Access section along with the receipt for your purchase to receive a refund.
What happens if I withdraw from a course? Will I still be charged the Direct Digital Access fee?
Refunds will follow the standard refund deadlines for credit courses as outlined at AACC Refund Policies.
For example: With an 8 week or longer course, students may drop the class for up to 10 calendar days after the date of the first scheduled class meeting and receive a full or partial refund. If you are eligible for a refund, Direct Digital Access fees will be credited to your student account (semester bill).
What happens after the course ends? Will I still have access to any course materials?
Access to the course in Canvas ends after the last day of the course has passed. However, in some cases, your access to the course materials may extend beyond the last day of the class.

Courseware products such as Connect and Mylabs will remain accessible on the publisher's courseware site until they expire. Remaining time can be seen within the courseware. If your e-textbooks expire after your course's end date, you can access your products directly on Redshelf.

Log in with your campus email address, click your name in the top right, and select "My Shelf." You might need to reset your password at redshelf.com/accounts/forgot, which works best in Chrome. Unless you have the material for lifetime access, the e-textbook rental will keep counting down. You can see how many days remain when you're logged in and looking at your Shelf. This is also displayed when accessing the materials in Canvas before the course ends.