TEXTBOOK BUYBACK
INFO CENTER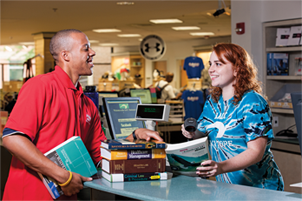 TEXTBOOK BUYBACK INFORMATION
Below, you will find the most frequently asked questions regarding textbook buyback, and the link to the "Sell Textbooks" online quote system.
FAQs
Important note: Buyback transactions are separate and different from rental returns. Please take a moment to verify that any books you would like us to buy back are not items you have rented. Any concerns about this should be resolved before attempting the buyback process.

We want to buy current edition books from you that your faculty have ordered for upcoming semesters. We call this textbook buyback. Once a faculty member submits a textbook adoption (major deadlines are October and March), we may have a demand for those titles.

The best time to sell textbooks is during or near finals week for a given semester (May and December are the largest buyback sessions). Demand is highest at this point and faculty adoptions for the upcoming semester have been submitted.

We will pay up to 50% of the new book price:

if the exact title is adopted by the faculty for an upcoming semester (no edition changes, etc.)
if we are not already overstocked on that title
if your book is in resalable condition (no damage and limited highlighting or writing)

Resalable condition means books are free from damage of any kind, including from liquids, fire, chemicals, animal damage such as tooth marks, and physical damage such as missing pages, loose binding or damaged spines.
Our staff have final discretion as to whether a book will be purchased after examining the book.
If the book does not meet all of those criteria, we will generally be unable to buy back your textbook.
We do offer buyback quotes on older titles that will not be used to stock our shelves. Prices quoted for these titles reflect current market conditions and may be lower than what we can offer for a current edition. We are happy to quote for and buy back any book that is in resalable condition.
If your textbook was sold as part of a bundle containing the textbook, plus...

additional textbooks
study guides or solutions manuals
answer keys
disks, CD-ROMs, DVD-ROMs
...then the items are generally bought back as a bundle as well. Please bring or mail them all in together.
If the textbook or bundle contained...
Access Codes
Exam answer sheets
Items with perforated pages
...then we are usually unable to buy them back, but please ask for a quote or ask our staff for assistance.
Loose-leaf and binder-ready textbooks are eligible to be resold in most cases.
SELLING YOUR TEXTBOOKS
We are sorry, but we cannot quote buyback prices over the phone. You may request a quote by using our online quote system. Prices offered via printed quotes are binding for mailed shipments only. All textbook buyback transactions require an AACC Photo ID (or other government issued photo ID ONLY if not an AACC student). Buybacks are done daily at all 3 stores.
Access to the online textbook buyback quote system is provided for students only. Requesting a quote will require an AACCBOOKS.COM account. If you do not yet have an account, you can create one as part of the login process.

Access the online quote system via the link below:
SELL YOUR TEXTBOOKS