AFFORDABILITY:
HOW WE HELP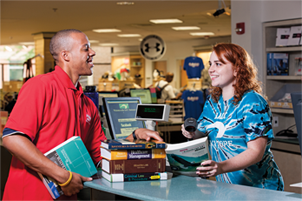 AACC and the bookstore work actively in many ways to save students money on course materials. This has been our focus for 24 years and counting. Read below for the details.
Price Match Guarantee
We now offer a comprehensive price match guarantee. For details, please visit the Price Match Guarantee page.
Textbook Discount Program
The AACC Bookstore offered a discount on all textbooks for a short period at the beginning of each major term. It started in 1991 and ended in May of 2017. It was replaced by the Price Match Guarantee.

Students saved well over $3,000,000 with this program; savings averaged $325,000 per year in recent years.
Rental Programs
Our textbook rental program began in the fall of 2010. It started with approximately 200 titles available per semester and an average of 500 - 700 books rented to students each term, and average savings per title were approximately 50% over purchasing.
We redesigned and expanded the program in August of 2013, and it is more favorable and flexible than ever before. We now average 475 - 600 available titles and we rented 2600 books from July - June. Student savings are closer to 60% on average and there are no longer huge non-return penalties or holds placed on student accounts to impede learning outcomes.
In addition to textbooks, we now also offer rentals on TI-84 graphing calculators on a per-semester basis. For pricing and availability, please refer to the course listing or ask a staff member.
Digital Content
Starting in 2008, we began offering digital textbooks and other digital content. On average, there are 100 - 150 titles available as an E-textbook or via online access during a typical semester. Offering an array of advantages over printed textbooks, including a 40% - 45% lower price point with only a few drawbacks, they offer a very feasible alternative.
Our current digital content partner is Redshelf. You may visit our Redshelf website to browse, search and purchase additional digital content.
Textbook Buyback and Swap Programs
We still offer daily book buyback throughout the year and still pay up to 50% of the new textbook price for most types of textbooks. Many stores now only offer buyback a few days a year. We also offer both an electronic and physical swap / classified area for peer-to-peer textbook trading. The physical swap board is located outside the Arnold bookstore in the Student Union. The electronic version is our Textbook Swap feature; you must have an account and be signed in to use the feature.
Affordability and Legislative Advocacy
Affordability Advocacy
Our website contains affordability strategies, guidelines and resources for students and faculty that help both groups make good decisions when choosing their instructional materials. Members of our staff attend regional constituency groups and attend and testify at legislative sessions regarding textbook affordability and related topics.
AACC IMAC
AACC's Instructional Materials Affordability Committee is comprised of stakeholders from all areas of the college. There is at least one student, one staff member, one member of the faculty and one administrator on the committee when it is in session in order to ensure adequate representation from all views. Their mission is to keep instructional material affordability at the forefront of the college community and work that goal into existing and future policy.
Open Textbook Resources
Several courses currently offered are using open textbooks, including some offered online for free with print copies available for less than $20. AACC is a member of the Community College Consortium for Open Educational Resources.
AACC Bookstore Mobile Applications
The AACC Bookstore has two smartphone apps, one currently for Android devices and one for iOS. These apps bring almost all of the functionality of our website right to your fingertips on the go, providing you the information you need to make good decisions. Future development will include full shopping and checkout functionality, push messaging, and more!