SPRING 2021
CONTACTLESS CURBSIDE
PICKUP DETAILS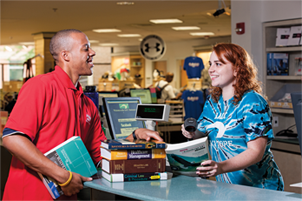 AACC Bookstore - Limited Time Contactless Curbside Pickup
Due to the college's ongoing response to COVID-19, all bookstore locations are closed along with all other college buildings. Orders are being accepted online only. For a limited time, we will be offering contactless curbside pickup to accomodate orders placed very near the start of classes. Please see the details below.
CONTACTLESS CURBSIDE PICKUP TIMES AND INSTRUCTIONS
Contactless Curbside Pickup
Location: Arnold Campus only, Ring Road adjacent to SSVC/SUNB
Timeline: Tuesday, January 19th – Monday, February 1st
Hours of operation:
Monday – Thursday 10:00 am - 6:00 pm
Friday 10:00 am - 4:00 pm
Saturday 10:00 am - 2:00 pm
Sunday Closed
Customer Instructions:
Place your order online at AACCBOOKS.COM.
Pay for your order with a credit card or financial aid book advance.
At checkout, select "Curbside Pickup" as the delivery method. This option will be activated while orders are being accepted for curbside only.
You will receive an e-mail when you order is ready for pickup.
When you arrive on campus, please follow the signs and directions of AACC Police or our attendants if present.
An attendant will be on hand to verify your name and order number. Please bring a photo ID with you for verification purposes.
For your safety, and in accordance with social distancing guidelines, we ask that you put your car in park, remain in your vehicle and leave your trunk open.
The attendant will place your completed order in the trunk and signal you when the transfer is complete.
If you need additional assistance, please notify the attendant.
Directions
The easiest access is from College Parkway via the entrance adjacent to the practice fields (SSVC entrance). Those coming from the north should turn left onto College Parkway and use the first entrance. Those coming from the south should proceed past West Campus Drive to College Parkway and use the first entrance. Those coming from the east on College Parkway should bypass the primary entrance and use the SSVC entrance. Entering via West Campus Drive will require you to circle campus via Ring Road to queue. Entering via the SSVC entrance bypasses the construction site.