TI-84 Plus Calculator Rentals
---
TI-84 Plus Calculator Rentals are Available Now!
The Graphing Calculator Rental Program allows AACC students (with valid AACC Photo ID) the opportunity to rent a TI-84 Plus graphing calculator for the duration of their semester!
Calculators are available to rent NOW for the fall semester. Rentals cost $49 and must be returned by the date specified on your receipt and rental agreement.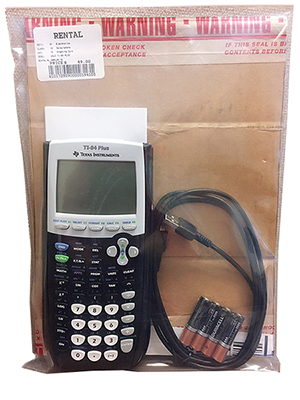 Our calculator rental bundles include:
TI-84 Plus calculator
Hard cover case
Transfer cable
Instruction booklet
Four AAA batteries


Calculators can be rented at our Arnold campus Bookstore location at the register while supplies last. A limited number are available on a first come first serve basis.

Rental Agreement Terms and Conditions

1) I understand that the graphing calculator I am renting is the property of the AACC Bookstore. By accepting the terms of the graphing calculator rental program, I accept responsibility for the use of this calculator and agree to return it by the deadline printed on the sales receipt to the AACC Bookstore. It must be in good, working condition with no damage from liquids or any other source. All materials from the kit must be included and also be free of damage (such as cables, manuals or other items).

2) Fresh batteries are provided at the time of rental. Beyond the first set of batteries provided, batteries are considered consumable and are the customer's responsibility to replace if necessary for the duration of the rental.

3) I understand that if I do not satisfy the conditions as specified in item 1, then I will be required to pay the replacement price as stated on the sales receipt (the full retail value of the calculator). I understand that if the graphing calculator is not returned in suitable condition by the deadline printed on the sales receipt or is lost or stolen, I must pay the replacement price.

4) I authorize the AACC Bookstore to place a hold on my student records if the graphing calculator is not returned by the deadline in suitable condition or is lost or stolen. Once a hold has been placed, it may take up to one week to be released once the terms of the hold have been satisfied. I understand that AACC will post these charges to my student billing account and will bill me for the replacement fee and any other unpaid charges. Failure to submit payment of these charges when billed will result in late fees and collection costs in accordance with Anne Arundel Community College's standard policies and procedures as outlined in the schedule of classes.

5) I understand and agree that any rental fees are refundable only according to existing AACC Bookstore refund policy. Once billed, replacement fees, late fees and collections costs shall not be refunded.